Beautiful Image Microcurrent Facial Sculpting is the ONLY FDA Approved Microcurrent Usage for Professional Aesthetic Services
Beautiful Image, LLC has been the leader in microcurrent technology for the past 38 years.  Their microcurrent facial sculpting technology provides clients visible results after their very first 45 minute treatment.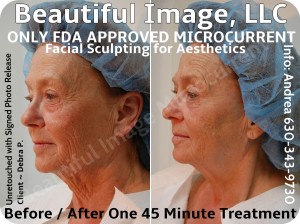 Beautiful Image's secret to their age-defying results is their "magic wands." These "magic wands"  allow for full coverage of the face while also being able to pin point specific results.  Beautiful Image has scientifically perfected the pattern of its seven wave forms to a precise pulse  in a precise series for achieving lasting and dynamic results.
Microcurrent revs up the energy of the cells within the body  stimulates the release of beneficial Neurotransmitters (endorphins and other helpful brain chemicals), causing overall relaxation and central nervous system stimulation, which reduces stress and has positive effects on your overall health and well-being. So, you will look better, and you will feel great!
Additional Direct Benefits Include:
Diminishes or eliminates fine lines, creases, and wrinkles
Hydrates and revitalizes skin, making it smoother and softer
Improves blood circulation and lymphatic drainage
Rejuvenates the "pink glow" of youthful radiance
Visibly firms and contours, lifting the overall droop
Tightens sagging jowls, doubling chins, and fatty cheeks
Clears up or reduces acne
Reduces the appearance of stretch marks and cellulite on the body
Reduces scarring and dimpling from laser resurfacing
Reduces dark circles or puffiness under eyes
Reduces symptoms of Sinusitis, Rhinitis, and Rosacea
Stress reduction and enhanced relaxation
If you have been thinking about adding a new service, then NOW is the time to add a new service that gives proven results and keeps clients coming back month after month.

If you would like learn more about how Beautiful Image can benefit your business, just click here and leave me your info.  I will email you on how to get started immediately and actually begin taking clients and making more money in as little as 5 days!  PLUS I will immediately send you my FREE E-book, "The Top Five Mistakes to Avoid at All Cost…OR Risk Having No Clients!"