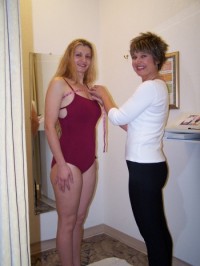 Body Wrap Training is a passion!  With two decades in the body wrap industry, Andrea with her in-depth, comprehensive body wrap training system is ready to provide you with everything you need to know to provide your business with this much sought after service. More clients, more profits, higher client retention and greater client life time value!
"Ya know…it's not just about throwing a few wraps on your client and calling it a body wrap. It's so much more!" 
Body wraps have been one of the most popular treatments at spas and salons worldwide for over 30 years.  Slimming Body Wraps along with expert body wrap training can help you and your clients to lose unwanted inches, tone and tighten the skin, reduce stretch marks and cellulite, detoxify the body and relieve stress. 
Now you can add this highly demanded service to your existing business and add to your overall profits in as little as a week.   Spalon Techniques offers the most comprehensive body wrap training you can obtain in the Body Wrap Service Business.
Why waste thousands of dollars on expensive licenses or franchise fees only to be told where, when and how you can operate your own business? … doesn't make sense!
Why limit yourself to using only one line of products and turning over a percentage of your hard earned profits to someone else?… doesn't make sense!
Why be forced to buy products and equipment that you may never use simply because "Headquarters" says you need them? …doesn't make sense!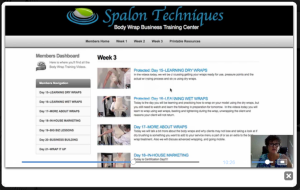 Our Comprehensive  Body Wrap Business Training Course, via the internet, allows you to learn on your time and schedule the lessons as needed.  Plus, there are no costly travel expenses for you and your staff and no time away from your business or your families.
If you would also like to have someone come on site to help you set up an efficient work area and assist you in establishing a smooth work flow, then there will be additional daily fees and travel expenses.
Whether you choose our Body Wrap Business Training Course or any additional On Site Help, your staff will be ready to work and start earning additional income in as soon as a week!  (As long as they have all been certified.)
Andrea's journey into the health and beauty industry  her vast knowledge in the Spa and Salon Industry began from her own battle with saccharin poisoning and a yearlong health crisis that took her on the road to recovery using detoxification and natural ways to feeling good again. "It was really scary; I found out that I was pretty much embalming myself alive," states Ms. Welch. "Thankfully so though, as now I can help so many others by helping the Spa and Salon Owners who are in the business to help others look and feel their best.  It is a win situation from every angle!" more on the story…
If you truly want to be your own boss and have a successful body wrap business or add to your already existing business, we can help.
PLUS, you are never left "high and dry!"  On going support is always available to you.
We have sought out the best products and the best prices and gladly share this information with you in order to save you money and run your business more efficiently.
Our Exclusive Body Wrap Business Training Course includes:
-Step-by-Step Wrapping Procedures for: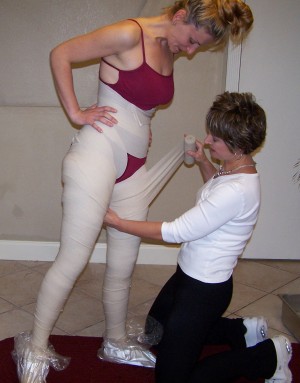 Mineral Body Wrap
Aloe Vera / Herbal Body Wrap
Clay Body Wrap
Infrared Body Wrap
-Advanced Wrapping Techniques
-Sample Client Forms
-Resources for Wrap Products / Accessories
-Ongoing Body Wrapping Business Support
-Advertising/Marketing Training  …and so much more!
If you are ready to offer body wraps to your clients, but are having trouble deciding on which product and type of body wrap or body treatment to offer, we will be happy to assist you in helping you make the best decision possibl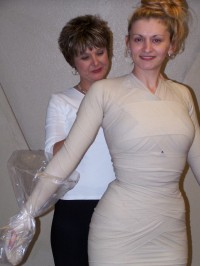 e that will suit your business and your clients' needs.
"Body wrapping has been my passion for over 17 years.  As a spa/salon owner and Body Wrap Instructor, I have researched and experienced just about every type of body wrap product and technique on the market.  Each type of product and process has its own pros and cons.  However, the secret to a happy client is knowing the special application and wrapping techniques for each product.  Getting the best results from each procedure is what will keep your clients coming back for more.
"Allow me to share with you my knowledge and experience today, and show you how you  can increase your profits."
Complete Body Wrap Business Training Course – Thorough and in-depth body wrap business training via a comprehensive modular system via the internet.  Study, learn and practice when your schedule allows.  Certification given via Skype or Facetime.
"I didn't think it would have been possible, but Andrea trained my staff in the Republic of Kazakhstan and with my employees not speaking any English!  Training with Andrea for the body wrap business by the internet worked beautifully.  I would recommend it to anyone, anywhere wanting to start this business or add it to their business."
Anna Reichert
Wax Bar, Republic of Kazakhstan
As an owner of three salons/spas/body wrap centers and educator, Andrea has performed over 5000 body wraps on her clients and has trained more than 100 business owners and their staff to perform body wraps.
You can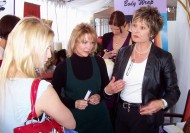 also find Andrea along with LA SlimWrap behind the scenes wrapping the celebrities at the Oscars, Emmy and Grammy Suites getting them "Red Carpet Ready" and has performed body wraps on various television programs such as Tyra Banks, A Modern Girl's Guide to Life, Rachael Ray and the View, to name a few.
For more information on our Body Wrap Training products and services, please contact us.  We will be happy to answer all of your body wrapping questions regardless of the product you choose to use.
PLEASE NOTE:  Our body wrap training course in very comprehensive and general is application to compression and relaxation body wraps.  You will be trained in mineral body wraps, aloe vera / herbal body wraps, clay body wraps and infrared body wraps.  We are happy to train you on any body wrap product you may choose.  However, because we highly recommend a superior product that is manufactured in a United States Regulated FDA laboratory with FDA approved ingredients, information about LA SlimWrap will be included in this course.
Important…you will never be obligated or persuaded to, for or by me or anyone at LA SlimWrap to use that product unless it is your decision.  My goal and passion is to help you to offer what you believe is the best product for you and your clients.
Please feel free to contact me directly to discuss any questions or concerns you may have.  products and, if applicable, available onsite training dates, you may contact us by email or call Andrea directly at 630-343-9730.
Complete and Comprehensive Body Wrap Training
in Compression and Relaxation Body Wraps

Learn how to successfully provide the best results for your clients and build your business offering profit generating
Mineral Body Wraps
Aloe Vera /  Herbal Body Wraps
Clay Body Wraps
Infrared Body Wraps
You will also learn:
the myths about using cellophane
is sweating during a body wrap good or bad
which type of wrap to use for specific reasons and benefits for your clients
the different wrapping techniques for different sizes and body types
You will receive:
all important forms and charts
printable training manual
examples of how to set up your wrap room
the best resources for body wrap supplies
Plus:
the do's and don'ts of marketing your business
how to successfully use "in house marketing" strategies to grow your business
simple and effective systems to begin using today to generate profits, and
advanced techniques for the best possible results.
(The Body Wrap Training Course includes 20 reusable elastic bandages.)
Body Wrap Training Course $595 
Please call me, Andrea, at 630-343-9730 if you have any more questions or to get started.  I will invoice you to make payment and then receive information on accessing the training.
*Additional Shipping Charges for International, Alaska and Hawaii.  You will be notified as to the additional charges prior to shipping.
This body wrap course meets the Florida 12 Hour Body Wrapping Certification State Requirements! Upon completion, you will be sent a certificate, which you will then send to the State of Florida Department of Regulations with the $30 required payment to receive your FL Certification.
On Site Body Wrap Training – Although it is always a pleasure to meet you and work with you in person, the additional cost of on site training we feel would be better spent in marketing your business.  That is why we always recommend first going through all of the modules in the on line Body Wrap Training Course.  That way, if you still feel you need on site training, the cost will be far less because you will have already spent your time learning the basics via the modules.  The amount of days for onsite body wrap training you may require will depend on if you are new to body wrapping or just want to brush up on your skills and learn advanced wrapping techniques and how many staff remembers.  Training can be scheduled for one day or for up to four days, depending on your particular situation.
If you do not have a cosmetology license in the state of Florida, FLORIDA STATE REQUIRES a 12 HOUR BODY WRAPPING CERTIFICATION COURSE.