Microcurrent Body Sculpting is one of those treatments that is hard to believe that it would actually work!  Especially since when receiving a microcurrent body sculpting treatment is not only painless, but very relaxing; and delivers results.
Have you ever had a part of your body that you just couldn't seem to ever get toned. Microcurrent body sculpting and toning system will non-surgically sculpt those areas of your body. Microcurrent can help tighten loose or wrinkled skin, firm flaccid muscles and help to diminish cellulite while helping to shape your body and increase muscle tone.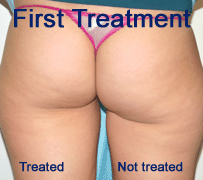 Prior to receiving microcurrent body sculpting treatments the complaints seem to be universal; flabby inner thighs, love handles, saddlebags, droopy buttocks, stretch marks, and cellulite deposits that show up in the form of unsightly wrinkles and cottage cheese thighs. Ask anyone that has ever tried to spot reduce these problem areas and they will tell you that it's almost impossible to get noticeable results.
Well, that was in the past. Sculpting now introduces the most leading edge, non surgical, non invasive technology available today. Imagine a technology for body sculpting that may achieve the following:
Spot treatment in specific body areas
Tightening of loose or wrinkled skin
Cellulite reduction
Body shaping and muscle toning
Reduces scars, acne, and stretch marks
Reduction in calloused elbows and knees
Measurable overall reductions resulting in firmer and more lifted buttocks, more toned stomach, slimmer and tighter legs
To better understand how microcurrent body sculpting works, think of going to the gym and exercising.  You go one time and you feel better, your muscles feel a bit tighter and firmer, but you have to go back again and exercise to keep the process of firming and toning going.  You must continue to exercise to get those results.  With microcurrent it is the same thing, but without the sweat and actually going to exercise.  At least you don't have to move  a finger!  Just let the microcurrent do the work and do it faster than actually exercising the muscles!
Now we don't say "don't exercise" as they wouldn't be good for your overall health, but microcurrent can really speed the process of getting back in shape quicker, as microcurrent works those muscles and keep stimulating them for 24 to 48 hours after the treatment ends.
The recommended number of microcurrent body sculpting treatments is about 15 for body parts because the muscles are larger.  I always recommend to my clients three treatments the first week, then two treatments a week for the remainder six weeks.  Then most people go into once a month maintenance microcurrent treatments; others have started an exercise program along with the treatments and then just up their exercise routines.
If you are in the Chicagoland area and would to receive a treatment, please contact me at 630-343-9730 or email me at Andrea@SpalonTechniques.com