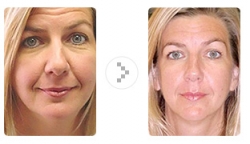 THE ONLY FDA APPROVED MICROCURRENT FOR  PROFESSIONAL AESTHETICS IN THE WORLD.

 Beautiful Image Microcurrent Facial Sculpting System is the ONLY FDA Approved microcurrent equipment for professional esthetics as a non-surgical alternative to facial cosmetic surgery.
People all over the world are discovering a better way to achieve beautiful looking skin with a more natural look, and without the unnatural appearance that is often a result from cosmetic surgery.  No knives, no needles, no downtime, no redness, no pain!
 Beautiful Image Microcurrent Facial Sculpting is changing the way the world looks at non-surgical facial technology, because it does not rely on wounding the dermis to stimulate its anti-aging properties.
"YOUR AGE IS YOUR BUSINESS, DEFYING IT IS OURS!"
Microcurrent Facial Sculpting may help with the following conditions:
Reduction of fine lines, creases and wrinkles
Reduction in hydration and revitalization, resulting in smoother and softer skin
Improved blood circulation and lymphatic drainage
Rejuvenating restoration of the "pink glow" of youthful tones
Visible firming and contouring, lifting overall drooping features
Tightening of sagging jowls, doubling chins and fatty cheeks
Reduction and shrinking of enlarged facial pores
Reduction of blackheads and acne
Reduction of scars and pitting
Reduction of dark circles and puffiness under eyes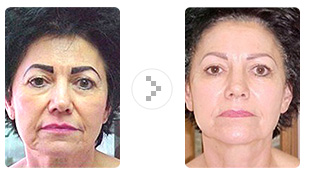 All of this without the usual risks…no redness, no harmful side-effects, no wounding, no abrasion, no soreness, and no pain.
Now for the technical stuff about Microcurrent Facial Sculpting.
Microcurrent has been proven to:
Increase the ATP (Adenonsine Triphosphate, the chemical that fuels the cells) by 500%
Increase blood circulation by 35%
Increase Gluconeogenesis (production of new glucose) by 40%
Increase the number of elastin fibers in the dermis by 45%
Increase the length of elastin fibers by 50%
Increase the collagen thickness in the connective tissue by 10%
Increase the number of blood vessels by 35%
Increase the lymphatic drainage by 28%
Results achieved with a microcurrent facial vary depending on which type of microcurrent device you choose to use.  However, with the BIOSONIC Beauty Microcurrent Facial Sculpting System, results are seen after the very first treatment! WE GUARANTEE IT!
The recommended series of treatments is typically 10, but some clients may need 12 to 15 treatments to achieve their desired results; while others may only 8.  This totally depends upon the age and also the condition of the client's facial skin and texture prior to beginning the treatments.   Since most of my clients are in the over 50 bracket, I recommend two microcurrent facial treatments in the first and second week and then they are able to receive a treatment once a week for the remainder six treatments.  (Of course, depending on age and condition of the skin, protocol treatments will vary.)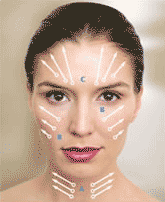 If you think of microcurrent like exercise, then you will understand that you cannot go to the gym only once and expect to have that firm, lean body you desire.   Microcurrent, like exercise, is cumulative.  Once you achieve your desired results, you will need 'maintenance treatments' every four to six weeks.  (That's way easier than having to go to the gym every day, right?…right!)
I will be happy to help you and answer any questions you may have about this most effective treatment.
If you are in the Chicagoland area and would like a treatment, please call the number below…or go to BIOSONIC Beauty for more information.
Andrea
"Your age is your business, defying it is ours."
630-343-9730 or email Andrea@SpalonTechniques.com