The Body Wrap seen on The Doctors  TV yesterday is the latest from LA Slim Wrap in helping women achieve a better body image.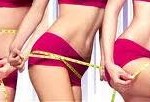 For some of us no matter how hard we try; we eat right and we exercise and still nothing seems to budge around the hips and thighs!  A whole body is great for overall toning and tightening and detox, but sometimes we just need that extra push in those troublesome areas; hence the LA SlimWrap spot treatment named "The Triple B."  This partial body wrap targets the belly, butt and 'saddle' bag areas with great results.  The results are so good that some one told the producers of The Doctors TV and the next thing you know, we are featured on the show.  (I will post the video as soon as I get a copy!)
Until then, check out LA Slim Wrap and the salons and spas using this awesome product! This was the body wrap seen on the Doctors.
To view our earlier segment "Infrared Body Wrap" on The Doctors TV, CLICK HERE.