Introducing Microcurrent Facial and Body Sculpting
Click on the Microphone to Listen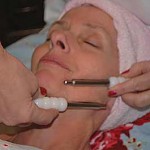 Microcurrrent facelift and body sculpting is taking the US by storm!  There are many treatments that claim to reverse the signs of aging, microcurrent hands-down delivers the best results with no pain, no down time and is affordable.
The microcurrent facial promotes collagen production, lifting and toning by sending micro, high-frequency electrical signals to the facial muscles and tissues.
Microcurrent Facial and How it Was Invented
Microcurrent has been used successfully for decades by acupuncturists, chiropractors, physicians, physical therapists, and other wellness professionals for pain management and other medical conditions. However…
Legend has it that this non surgical beauty treatment was born when a patient was being treated on one side of her face  by a German doctor because of Bells Palsy.  I am not sure if it was in one treatment or a series of treatments, but there was a significant difference in the toning and tightening of the underlying muscles and actually "re-lifting" the face back into place.  And you guessed it, the beauty industry took notice and the microcurrent facial was born.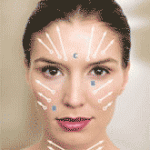 After just one microcurrent facelift or facial treatment, clients see definitive results and the results keep getter better and better with each treatment.  And by the way, the microcurrent machine I use works on the body too!
Microcurrent is an overall exceptional experience not only for achieving that younger more radiant, tighter skin by lifting the brows, the jowls, and erasing fine lines and wrinkles, microcurrent also gives your client a profound sense of peace and relaxation.  And this is the best part…NO Pain, NO Downtime and NO Side Effects of other lifting treatments and surgeries.
If you are looking for a safe, effective and affordable way to help your clients look and feel their best then Microcurrent Facial and Body Sculpting is a service to truly consider offering!
MORE ABOUT MICROCURRENT
If you would like more information about offering your clients the ONLY FDA APPROVED Microcurrent Facial Sculpting Treatment available for professional aesthetics, please feel free to contact me directly at 630-343-9730 or email me:  Andrea@SpalonTechniques.com.
I am happy to help you in anyway that I can.
Andrea